Home Download Brochure Download Order Form Contact Us Shipping Policy
NUMBER 44: AUTO INSURANCE CARD JACKET
WITH BUSINESS CARD POCKET
4" X 5 3/4"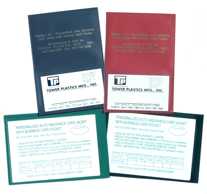 Ideal for auto insurance cards.
HAS BUSINESS CARD POCKET BELOW YOUR PERSONALIZED IMPRINT.
Keeps YOUR NAME AND COMPANY in front of your
customers. FREE 4 LINE IMPRINT in GOLD in our standard type when all pieces are
printed the same. Available in BLACK, NAVY BLUE, RED and GREEN.
COLORS: BLACK

NAVY BLUE

RED

GREEN

| | | | | | | |
| --- | --- | --- | --- | --- | --- | --- |
| QUANTITY ORDERED | 10,000 | 5,000 | 2,500 | 1,000 | 500 | 250 (min.) |
| PRICE EACH | 22¢ | 24¢ | 28¢ | 31¢ | 36¢ | 42¢ |
| EXTENDED PRICE | $2,200.00 | $1,200.00 | $700.00 | $310.00 | $180.00 | $105.00 |