Home Download Brochure Download Order Form Contact Us Shipping Policy
NUMBER 60: PERSONALIZED
AUTO INSURANCE CARD JACKET
"WHAT TO DO IF YOU ARE IN AN
AUTO ACCIDENT"
4" X 5 3/4"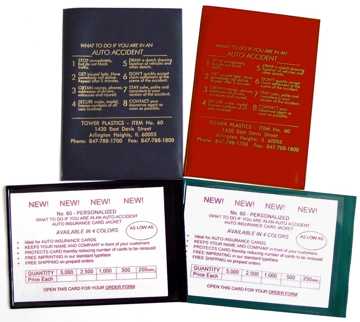 Ideal for auto insurance cards.
HAS YOUR PERSONALIZED IMPRINT
PLUS INSTRUCTIONS
FOR WHAT TO DO IF YOU ARE IN AN AUTO ACCIDENT.
Keeps YOUR NAME AND COMPANY in front of your
customers. FREE 4 LINE IMPRINT in GOLD in our standard type when all pieces are
printed the same. Available in BLACK, NAVY BLUE, RED and GREEN.
COLORS: BLACK

NAVY BLUE

RED

GREEN

| | | | | | | |
| --- | --- | --- | --- | --- | --- | --- |
| QUANTITY ORDERED | 10,000 | 5,000 | 2,500 | 1,000 | 500 | 250 (min.) |
| PRICE EACH | 23¢ | 26¢ | 29¢ | 32¢ | 37¢ | 43¢ |
| EXTENDED PRICE | $2,300.00 | $1,300.00 | $725.00 | $320.00 | $185.00 | $107.50 |